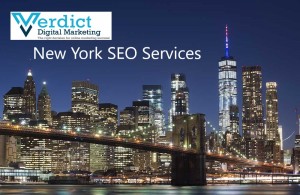 New York City is one of the most competitive cities in the world. Its easy to get lost with all the skyscrapers, people, businesses and the internet is no different. Getting found in the Big Apple or the internet for New York SEO Experts is competitive market that's why we know we can help your business succeed in that market.
New York is one of the largest and most diverse places and whether you are in business in Manhattan, Williamsburg, Brooklyn, Astoria, Queens or Garden City, Long Island its very competitive when it comes to Google Organic Search Rankings. Many entrepreneurs get their businesses started in NYC because of the potential profits.
Major Cities are not the only thing that is competitive. Certain industries such as marketing for Lawyers and law firms, medical and dental search engine optimization can be challenging. Contractor's such as plumber's, electrician's, home improvements companies are very competitive because of all the organic searches made on Google which can lead to huge profits for the business that can grab all that search engine traffic!
New York is also has talent, and that's where Verdict Digital Marketing comes in.
GET FOUND ONLINE WITH THE HELP OF NEW YORK'S BEST SEO COMPANY
We are obsessed with SEO for Lawyers and Plumbers. We know how to rank businesses for success. If you want to take your business to the next level, what you need is for the phone to start ringing.
Maybe you have done a few tricks you've been told to rank your site to the top of the search results. You've listened to the so-called gurus, or maybe you have even spent money on low budget search engine optimization companies that promised quick results.
After all that, when you look at Google search results all you see your competitors you ranking you making money that should be yours and all you can do is ask yourself is why.
We totally understand. Don't take short cuts. It takes money to make money.
We know understand minimizing costs, but don't limit your potential! You know your business could be ranking better if you put in some more resources or had an search engine marketing agency that had a deeper knowledge about your target market specifically SEO in New York or Brooklyn for let's say your dental practice, restaurant or hair salon. Maybe your website just need a few pages of extra content, or additional optimization such as an audit to improve rankings dramatically.
We think outside the box, that's how we can help your business. We give you the exact SEO game plan you need to succeed in this competitive market Manhattan, Queens or where ever you are located.
WHAT IS SEO?
Search engine optimization or SEO, is just one crucial part of a successful digital marketing strategy that if implemented correctly, can deliver long lasting results. Website owners looking for the best organic SEO services in New York should call us immediately before your competition does!
Search engine optimization is the process of organically ranking a website's pages in search engine results such as Google. For example, if you owned a plumbing company in NYC, your SEO specialist may determine that Plumber in NYC is a high traffic keyword that you would want to rank your website for or maybe New York Plumbing Company. When a search engine user enters one of those search phrases into a search engine the goal is to have your website as the first result in the organic search results or even the local 3 pack maps section.
A successful SEO marketing campaign is an ongoing process that consists of a number of individual components, such as keyword research, our writing team create optimized content to attract search engines and potential customers to your website, a nice sleek mobile friendly web design, logical site structuring, citation and link building to create authority and the trust of Google, a number of onsite elements, and never-ending challenge navigating though Google constantly changing their algorithms to stop search engine manipulation and only should relevant websites in their search results.
Many business owners make the mistake of thinking that they can create a strategy, implement it, and manage their own SEO campaigns in an effort to save money instead of obtaining professional SEO services. Don't take shortcuts with your business. It's your financial lifeline. You would look to save a few dollars on a heart surgeon or criminal attorney would you? Knowing a few basic SEO techniques or hiring an offshore team that doesn't know your target market can cost you considerable. Google can penalize your website and put in the sandbox causing it to never be shown for internet searches.
THE TRUTH ABOUT SEO
We encounter many small business owners that worked with "SEO Experts" or agency's, many with just a few years of experience or even SEO Companies that where run by salesmen with NO search engine optimization experience. They just outsource or hire random seo specialists to do minimal work.
This leads to mediocre results and possibly a major loss of business!
The most common problems inexperience "affordable" agency's cause, are because they practice poor SEO service, using techniques such as:
• Using outdated search engine optimization tactics
• Violating Googles search engine marketing guidelines
• Outsourcing specialized Law Firm or Medical SEO services to inexperienced individuals and overseas firms
• Using the same "cookie cutter" strategies for various clients in different industries
Unfortunately it takes longer for us to repair the damages caused by these agencies, which in turn costs more money to repair not to mention the loss in revenue and traffic to your website.
Professional, organic SEO, especially for dental practices, law firms and plumbers can be challenging because it requires our experts:
• Staying up to date on Google's algorithm changes
• Understanding and practicing new SEO technologies
• Analyzing your competition to design strategies that beat the competition
• Accurately decoding a websites analytics to determine potential problems before they become on oftentimes ambiguous data
• Creating affordable SEO strategies that will still produce results
COMMON SEO PROBLEMS WE SOLVE
• Lack of results from your Law Firm or "Plumber SEO expert,"
• Google may have penalized your website after you made "quick fixes."
• You're constantly paying your SEO firm money and are not sure your seeing results
• Lack of time or knowledge to expand your online presence or keep up with the ever changing world of SEO
• After delegated SEO and marketing tasks members of your staff, your small business still does not have direction
• You're website is constantly out ranked by your competition
• Don't know why you can't find your website on Google Maps
HOW MUCH IS WEBSITE SEO GOING TO COST?
The cost of a digital marketing campaign is not an easy question to answer because of all the potential factors we mentioned and the type of competition your small business faces online.
We suggest budgets based on the goals and needs of your small business and are designed to help your plumbing company, dental practice or law firm beat their competition. We work with competitive, established law firms and plumbing companies of various sizes, and customize strategies based on how aggressive you want to go after your competition!
To help you understand the complexities of quoting a price, here is small list of tasks we perform so you can get an idea why we have packages based on different budgets
Check your website so its organized for users and search engine spiders
Run scans on your website to make sure its search engine friendly
Check website speed to ensure it loads quickly
Review your website content to see if it contains useful, optimized high-quality content if not we need to write custom content
Are we customizing a website based on your company's needs or just designing a custom template
Is your business located in a competitive areas such as New York City or is it located in
Here is what is involved in the first 2 months.
Discus your goals and lay out an SEO strategy that is appropriate for the level of competition you will face
Performing keyword research and competitive analysis
Ensure proper indexing of your websites pages
Making sure your images are optimized for both SEO and loading speed
Making sure that your site's title tags and header tags are optimized, but exclusively unique
Checking Google's page speed insights for weaknesses and opportunities to help your site run smoother
Set up and optimize Google Maps, Bing Maps, and Apple Maps listing to make sure your business locations are verified
Analyzing all your directory profiles online to make sure each one is accurate, updated, and optimized
Analyze your competitions backlink profiles and create a strategy for high-quality off-site optimization
Performing a content audit, checking every page on your site for any plagiarism, duplication issues, or thin content
Building a content strategy for SEO
As you can see this is a daunting set of tasks; everything from cleaning up old citations to creating new ones. Optimizing your website and constantly building your websites authority. It's essential to your websites SEO success. Not only is Google Maps a must so your ideal client can find your business, but Google's organic algorithm now uses your Maps information to rank your business geographically.
If you're ready to get started, call us today.
Manhattan New York Locations:
Verdict Digital Marketing & SEO
350 5th Ave
New York, NY 10118
(646) 971-8736